HGH Testing Protocol
So, you've heard this before:
"Pharmaceutical Human Growth Hormone is better than underground lab stuff. Most of the underground lab stuff is bunk anyway bro. It all comes from China."
There's a few issues with this blanket statement. The first is that in order to use pharmaceutical grade HGH at doses that are worth your while, you would need some very deep pockets. The second issue is that not all underground lab performance enhancing drugs are created equal. Sure, reliable sources are few and far between as greed often overrides integrity, but what if there was a way to put this debate to bed? Well, aside from some factors that cannot be controlled such as storage conditions and the potential issues with a users misinformation about how to safely store, reconstitute and dose a product, there is a blood test you can take to determine the real truth. What is life without evidence? Otherwise, you unfortunately have succumbed to being another "know it all bro" who has only regurgitated the same information the last big guy told him. Monkey see, monkey do.
So let's get down to business! How do we test how dosed our UGL HGH really is? We want numbers! Another anonymous chemist chimes in on the most accurate method to self test:
HGH PROTOCOL TESTING
1. Fast for 6 hours (food and drink affect the test).
2. Inject 9iu of HGH exactly 3.0 hours before withdrawing blood
3. On the request form, you'll need to request "Growth Serum." If you're having an issue with finding a private lab to conduct this test, PM us and we will refer you to one of the many pathologies around Australia that can easily make this happen for you. Now, to test the peak of Growth Serum [which means Growth Hormone levels] of the HGH you are using, you must withdraw the blood exactly 3.0 hours after injecting 9iu [9iu is a good benchmark for comparing against other HGH's due to the literature available].
4. To test the IGF1 bio-activity of your GH, follow the same above process, except ask for "SOMATOMEDIN C" (IGF1). IGF1 takes up to 6 weeks to reach its highest levels. So for this particular test, you'll have to wait patiently.
5. Inject 9iu as per above, except for testing the IGF1 peak, you withdraw the blood exactly 11 hours after injecting your HGH
6. Compare your results with the research and see how your HGH fairs!
Below is a table and coinciding graph that presents the mean GH Serum values of a 2.92 mg (or 9 iu) injection, which I have taken from the literature. If you follow the protocol above and compare it with these figures, it's safe to say you know where your UGL stands!
Until then, let's not knock any UGL HGH. Not ours, not our competitors. No ones. Let's be scientists. Let's get the real truth so we can support the manufacture of the most respected brands and also create warnings for products that do not check out. Who knows, your UGL HGH may just be more worth it than you think?
---
After injecting 2.9 mg (9iu) GH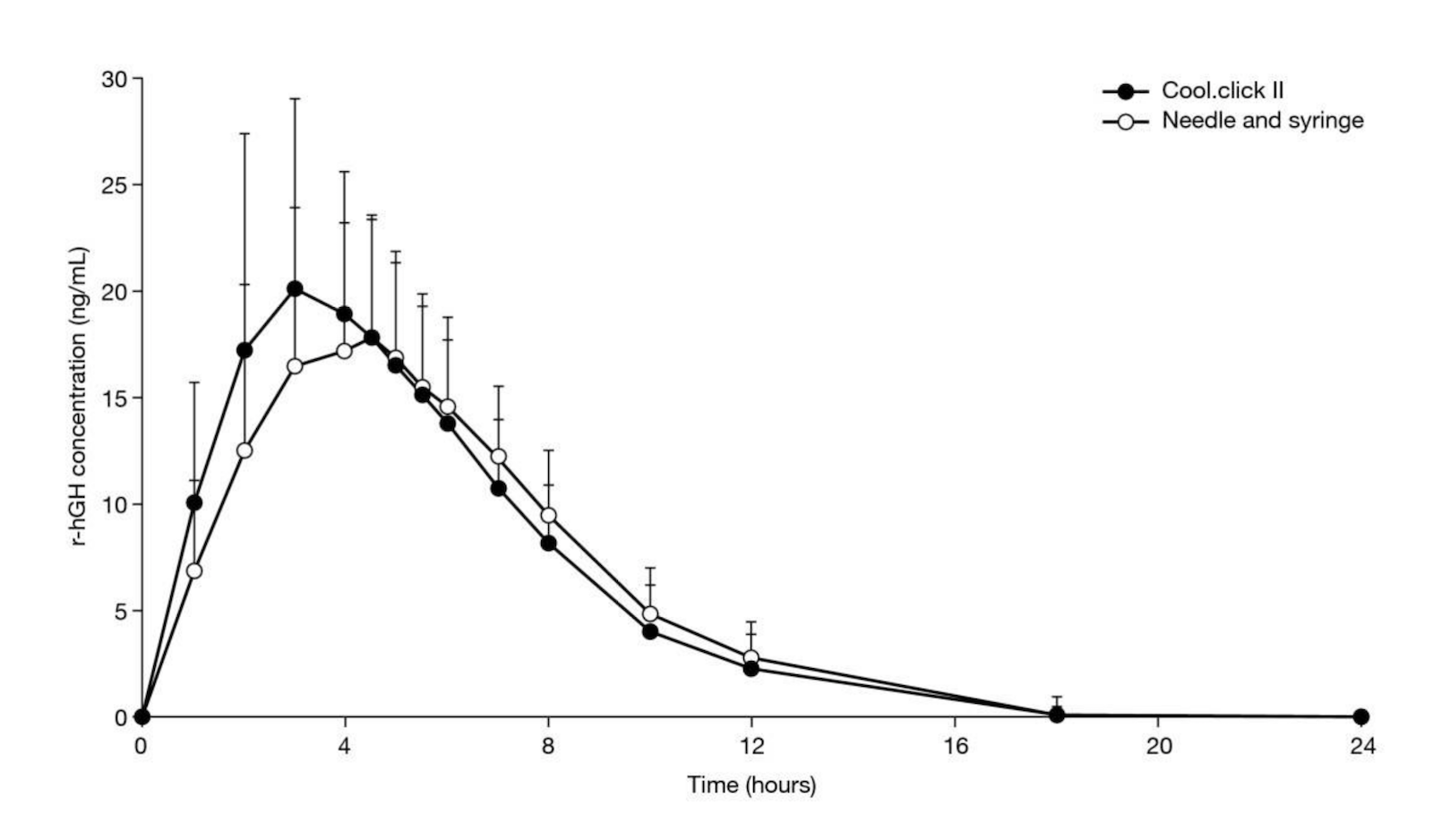 Mean hGH (± SD) serum concentration vs time profiles following subcutaneous administration of 2.92 mg rhGH/subject using either the cool.click™ 2 device or standard syringe with needle.
---
The first treatment sequence received a 0.5 mL (2.92 mg) subcutaneous dose of r-hGH (Saizen®, Merck Serono) administered by standard needle and syringe (period 1) followed by administration of the same dose of rhGH using the cool.click™ 2 needle-free injection device (period 2). The second treatment sequence received 0.5 mL (2.92 mg) r-hGH administered by the cool.click™ 2 device (period 1) followed by administration of the same dose of r-hGH using a standard needle and syringe (period 2).
– Au Steroids Team
We offer Australia's best value and high quality HGH (Novotropin) – Delivered domestically from within Australia in 1-3 business days. Browse our store for more information.
References:
https://www.ncbi.nlm.nih.gov/pmc/articles/PMC2093927/#!po=51.9608